OPEF Hosts Its First Mixer for Simi Valley & Moorpark DOC Families!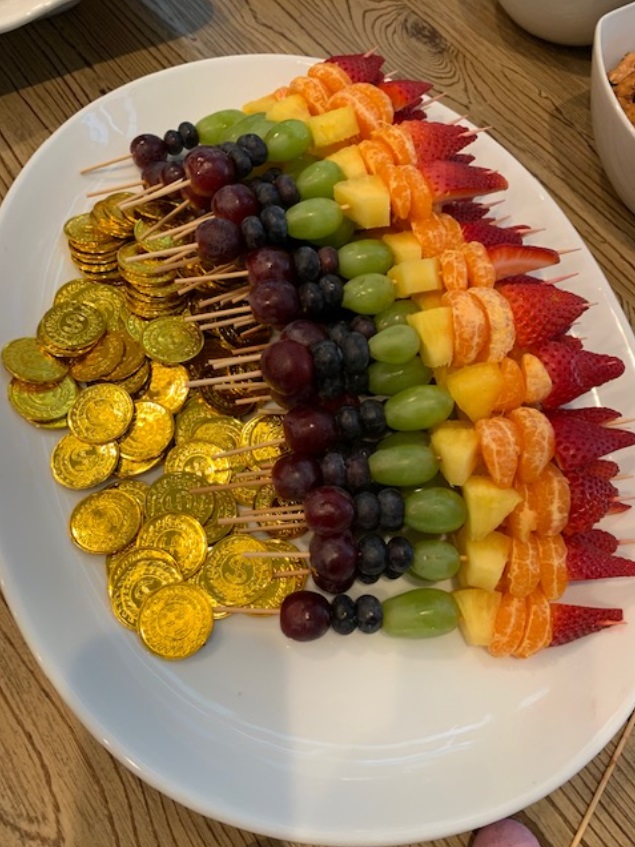 Did you know that 48% of the student population at OPUSD are students who live outside of the district in the surrounding areas of Oak Park? That's almost half of the student population commuting Monday through Friday to attend the excellent, high-performing schools in the city of Oak Park. One thing we love about OPUSD is that it's open to everyone who wants to attend - a District of Choice (DOC) school system. Without our DOC students, OPUSD schools wouldn't be the distinctive, diverse, and exceptional institutions that they are today!
Because of that, Oak Park Education Foundation hosted our first mixer on March 16th for our Simi Valley & Moorpark DOC families to show our appreciation for their dedication to education. It was a lively afternoon filled with conversation for the adults and fun St. Patrick's Day activities for the kids!
OPEF looks forward to future events with our DOC families to not only get to know them better, but also to partner alongside them to build a better future for our children.
Fundraising - Let's Turn Up the Heat!
Join your fellow K-12 families, and give the gift of education to our children. You may be aware that OPEF has donated $350,000 to our OPUSD schools this school year. However, we have NOT met our fundraising goal. We are short by over $120,000. Let's TURN UP THE HEAT! Help us meet our goal before the end of June!

OPEF extends a sincerest "THANK YOU!" to our
2018-2019 Donor Families & Companies
!
OPUSD Summer School Registration
is Open!
Middle School Summer School registration is being done via our online registration portal and will remain open through Tuesday, April 30, 2019, at 11:59 PM. Click here for a full list of Middle School course offerings for Summer 2019.
The High School Summer School lottery registration process is ongoing. Click here for a high school course brochure with course descriptions, prerequisites and more for Summer 2019. Don't miss these important dates!
April 19: Lottery class placements will be posted here
May 5: If your child is selected for a class in the lottery, parents must complete all sections of the online registration process AND make full payment of the tuition by this date here
May 24: Parents who have pre-registered will be able to confirm room and teacher assignments the afternoon of May 24 here.
May 28: First Day of Summer School, and the last chance to register (in person) beginning 7:30 am in the OPHS Pavilion.
OPEF is looking for additional board members and lots of volunteers for different events. Volunteer opportunities include...

Fundraising
Event Planning
Auction Solicitation
Golf Tournament
Website Management
...and many more!
Any amount of volunteer time is welcome and appreciated!
If you have a special skill or have any extra time, please reach out to Vicki Raven at vicki.raven@oakparkeducationfoundation.org

OPUSD's Odyssey of the Mind is Going to World Finals!

Congratulations to our OPUSD students for winning a 3 spots in the Odyssey of the Mind World Finals, which takes place at Michigan State University on May 22-25! Over 800 teams from around the world compete in the Odyssey of the Mind World Finals, and we are thrilled to have so many Oak Park students make it this far. Here are our World Finals qualifiers!
Elementary Team (ROES & OHES)
Kainoa Ginter, Gloria Koo, Keiona Nadig, Arnav Saxsena, Anjali Staschik
Middle School Team (MCMS)
Jashwanth Bamidi, Matthew Horowitz, Ayan Khare, Hitkunwar Rajput,
Devam Shah, Aniket Subramanian
High School Team (OPHS & MCMS)
Thaen Ananda, Hana Chizzo, Harshitha Dasari, Neha Jag,
Ananda Kinkaid, & Minnoli Nori
One team from MCMS was even awarded an Odyssey Angels service award for their support of an animal sanctuary hosting horses, cats, and dogs in Malibu after they'd lost everything in the fires.
The OM program, which is in its fifth year in OPUSD, is the largest creative problem competition in the world - now in 25 countries! It is one of the STEAM initiatives sponsored by Oak Park Education Foundation. Every year since the OM program came into OPUSD, teams have scored highly and competed at the State level. Last year, a team from OPHS made it all the way to the World Finals competing against teams from Europe, Asia, and the Americas.
Rocket Club Participates in the Team America Rocketry Challenge
The Rocket Club has been working hard on the Team America Rocketry Challenge - TARC. You can learn more about this national contest sponsored by the major aerospace industry partners, NASA, and the U.S. Dept. of Defense here: https://rocketcontest.org.
Science Night at Oak Hills Elementary School was a success; the students launched a rocket, and had a great time. The club will be launching a rocket at Brookside Elementary School on April 26!