An Update from Board Chairman,
Brandon McFadden
Welcome to our first Oak Park Education Foundation (OPEF) e-Newsletter. I am ecstatic to share so many exciting updates with our OPUSD parent community. As a parent with two daughters at Brookside Elementary School, I became involved with our district's education foundation in order to ensure that our kids have the highest quality and most enriched education possible.
The foundation recently made a critical step toward fulfilling our mission of supporting additional people and programs that enhance educational experiences and keep our schools ranked among the best in California. We brought on an Executive Director with impeccable credentials who is also a parent of an 8th grader at Medea Creek Middle School. Vicki Raven comes to us directly from leading fundraising for the United Way of Ventura County. We are so fortunate to have Vicki on our team, leading our dedicated volunteer Board of Directors, and if you don't know her, I hope that you have an opportunity to meet with her very soon to learn more about OPEF and how you can help.
Oak Park Education Foundation has committed $350,000 in funding to all the schools in OPUSD for this current school year, and we are more than $100,000 short of our goal. We need your help! We commit to being 100% transparent with you on the need for OPEF, the programs we are funding, and exactly how much we are investing in specific programs that benefit your kids. We pay for all instructional aides in K-3 across all three elementary schools. We pay the salary of the recently hired (and much needed) counselor, Ms. Smilor, at MCMS, and we are buying equipment needed for important STEAM classes at OPHS that help prepare your kids for a bright future.
Fundraising: Where Are We to Goal?
As of January 31, we have raised in excess of $214,000, putting us at 61% of our $350,000 annual goal!
OPEF invested $350,000 this year to support programs and people with the hope of being supported by the Oak Park parents and community. If we do not reach this goal, we won't be able to sustain these critical people and programs for future school years. OPEF has only penetrated 6% of our Oak Park families to get to 61% of our goal, which means our goal is very realistic this year. We need every family's support to accomplish what our kids deserve from an OPUSD enriched education. With broader parent participation, we will accelerate the excellent performance of our students and advance our leadership position as one of the top school districts in the state!
WE NEED YOUR HELP!
Any donation amount is appreciated and will help us reach our goal. Donate today to continue to make a difference!

PTA/PFA Partnership!
In-Room K-3 Teachers' Aides
This 2018-2019 school year, the Oak Park Education Foundation dedicated $250,000 towards implementing literacy and numeracy instructional aides in the K-3 classrooms of all 3 OPUSD elementary schools. On Oct 2 & 25, the aides attended a 3-hour training which covered the philosophical and instructional shifts OPUSD is taking in math. In particular, the Mathematical Practices and Routines for Reasoning were shared. This training aligned perfectly with the work of the Math Task Force.
Provided by OPUSD, our aides were treated to a full day of training with Curriculum Coordinator for Primary Literacy, Shanna Schwartz, who is also the Senior Lead Staff Developer from Columbia University's Teachers College Reading and Writing Project. She conducted a full day of training that gave an overview of Reading and Writing Workshop, and then spent a lot of the day focused on the new Phonics program and how to lead small group centers. As a result, all aides are able to assist teachers with actual literacy and numeracy instruction and improve our educator to student ratio - a key issue that has been consistently brought to our attention and the attention of our elementary schools' PTAs & PFAs.
The aides are educated, intuitive, and motivated, and their work continues to go a long way to helping teachers and students!

Medea Creek Welcomed New Counselor in December!

Thanks to the support of the Oak Park Education Foundation, Medea Creek Middle School has been able to add a fourth full-time counselor to the staff this past December.
Additional counseling service has been an ongoing priority at the middle school. In recent years, adolescent anxiety, social-emotional support, navigation of online and social media issues, and earlier college and career counseling have been needs identified by the school and district. Having additional counseling staff will give the school the resources to provide more preemptive support to students rather than having to be reactionary to crisis issues with students. Plans for the additional counselor and the staff include more parent information resources and presentations, particularly with the development of College and Career Readiness programs.
Ms. Smilor has worked in the Conejo Valley in education for over thirteen years. She worked at Sycamore Canyon School (a K-8th grade school) and at Newbury Park High School in the counseling offices. She graduated with Distinction from National University to earn her Master's in Educational Counseling in 2018. She was selected from a very elite pool of candidates that interviewed in November. Ms. Smilor has already had a big impact on helping MCMS students.
Ms. Smilor has lived her entire life in the Conejo Valley. She is married over twenty years with two children; ages 16 and 13. She knows middle schoolers! She loves anything outdoors with hiking, camping, dirtbike riding and skiing as her favorites.
MCMS is thrilled to have Cyndi Smilor as Counselor. Her addition will transform the support services for the middle school!
117 OPUSD Students Compete in Odyssey of the Mind This Year!
On Saturday, March 2nd, the Odyssey of the Mind regional tournament is taking place at Westlake High School, and 117 of our OPUSD students will be competing to move on to State!
Supported annually by the Oak Park Education Foundation, Odyssey of the Mind is the world's largest creative problem solving competition in the world. It was introduced to OPUSD five years ago. In our inaugural year, we had five teams participating. This year, 19 teams from five of the Oak Park schools are participating! The consistent growth each year speaks to the level of engagement and success of the program at all school levels. Every year, multiple Oak Park teams have placed at Regionals to advance to the State competition. Last year, the OPHS team made it to compete in the World tournament! The success of student participants supports the reputation of OPUSD as a district of excellence.
The word continues to spread as OPUSD students K-12 engage in hands-on, project-based learning through five different "problems" -- mechanical/vehicle, building/structure, technical performance, classics, theatrical. Odyssey of the Mind is one of the exceptional STEAM programs funded by OPEF.
For more information about the Odyssey program in OPUSD, please email parent volunteer reps at ootmopef@gmail.com. For more information about the Odyssey of the Mind program, please visit the national website: www.odysseyofthemind.com
The Oak Park Rocket and Aviation Team consists of 24 students in grades 9-12 from Oak Park High School in Ventura County, California.
If it flies, the team is interested. Rockets, weather balloons, and drones are always part of the mission. Learning to manage a project is the primary learning objective. Planning, designing, scheduling, and safety are elements of successful project execution. These skills are not only critical in aerospace, but in other academic areas and in just about all aspects of life.
Promoting STEAM (Science, Technology, Engineering, Arts, and Math) is a critical aspect of the team mission. The team was invited to host a table at the Wings Over Camarillo Air Show in August and taught young children to build model rockets while WWII airplanes soared overhead. OPHS Rocket Team is a regular participant in science nights at local elementary schools. For fun, the team will go 'plane spotting' at LAX for hours and hours.
The team participates in the Team America Rocketry Challenge (TARC) sponsored by the Aerospace Industries Association (AIA), which is the world's largest rocket contest. Since 2012, the team has made it to the national finals in Washington, D.C. and Northern Virginia three times by designing and building a rocket to fly to exact specifications and finishing in the top 100 teams out of over 900 in the U.S. Learn more at: www.oakparkrocketry.org
The Oak Park Education Foundation is proud to annually fund and support the Oak Park Rocket and Aviation Team!
OPEF Hosts its Inaugural Distinguished Donors Appreciation Event!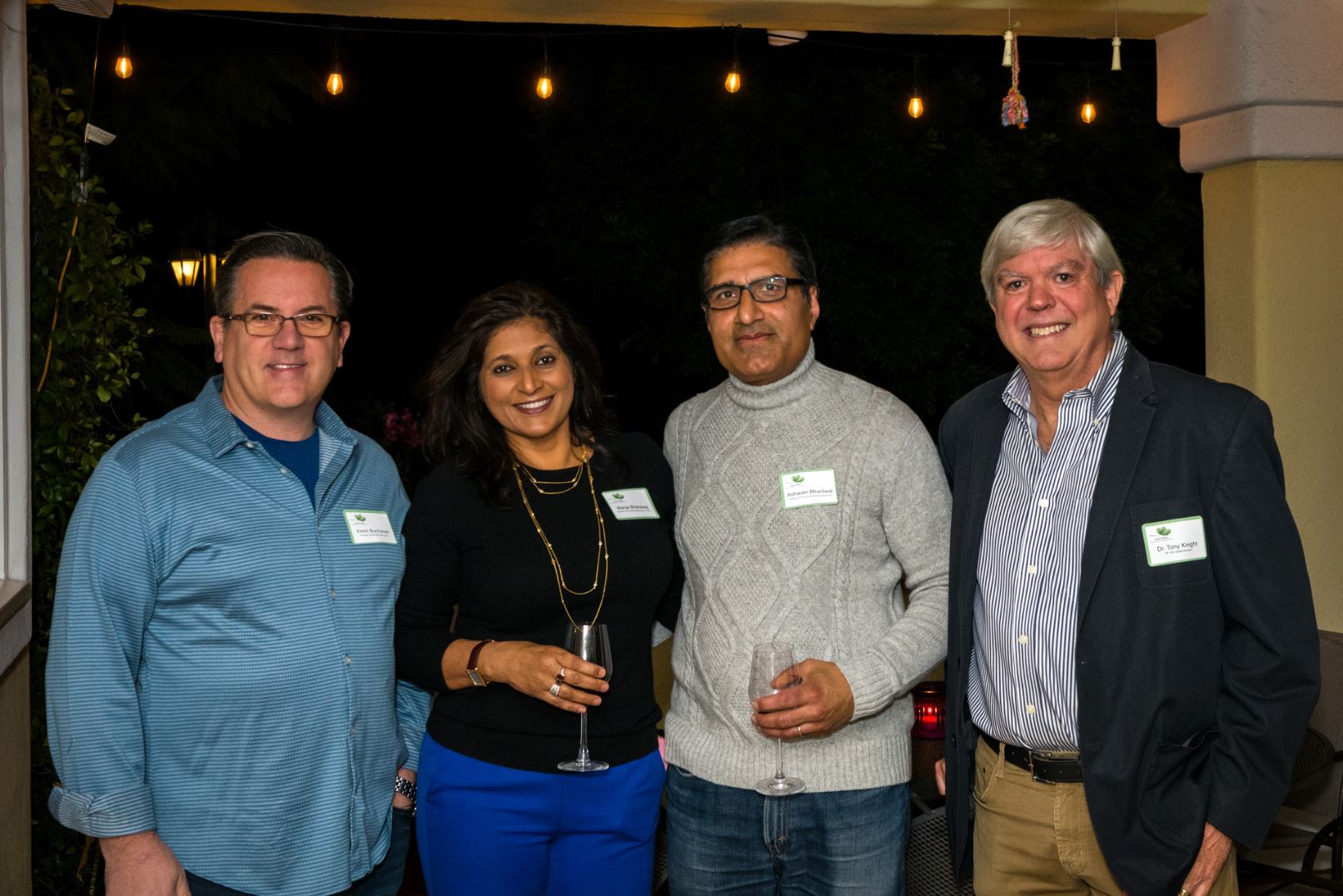 Did you know that 85% of our total funds raised so far were gifted by our generous donors who have given or committed to giving $1,000+ for the 2018-2019 school year?
On Saturday, February 2, OPEF hosted our inaugural Distinguished Donors Appreciation event to thank and celebrate the families, education professionals, and community members who have given largely to fund our children's futures! Click here to see a video of the evening's highlights, and visit our website to see the full gallery of moments captured throughout the evening!


OPEF to Host a Series of DOC Mixers Throughout the Spring!
District of Choice (DOC) students make-up 48% of the total OPUSD student population. If you and your student(s) are district of choice attendees of any of the schools, we would love to get you know you better!
You and your students are invited to join us for the first of a series of DOC mixers that OPEF is hosting throughout the surrounding areas of Oak Park - the first one being in Simi Valley at the home of Red Oak Elementary School parents, Phil & Reese Loos, on Saturday, March 16, from 3:00PM-5:00PM!

Reach out to Vicki Raven at Vicki.Raven@oakparkeducationfoundation.org for more details, and keep an eye out for the official invitation in your inbox very soon. We look forward to seeing you there. Hope you can make it!